Scene One – Big, busty, brunette Mistress Alison Tyler is ready to trade you in for a better slave if you don't do your job and lick her pussy and ass properly. She looms over you in up-close POV and spreads herself wide for your tongue. Her voluptuousness envelopes you and you work passionately to please her.
In her bedroom, Slave Eric gets his puny head crushed under his Mistress' full weight. She sits on his face, pushing his head deep into her mattress and robbing him of oxygen.
She lets up only to keep him alive so her can lick her asshole. She FACESITS and REVERSE FACESITS him, SLAPPING HIS FACE and WHIPPING HIM when he protests the cruel treatment. She shakes her big buttocks, rattling his brain in his skull. She threatens to go fuck her boyfriend and make Eric suck his semen from her pussy.
Alison rides his face to orgasm, then TIT SMOTHERS him as a reward. But his relief is short-lived. Alison jumps on his face again and grinds herself until she CUMS again.
Scene Two – Hot and nasty Mistress Brandi Aniston send you to your knees in her blistering POV performance. She spreads her pussy lips for your tongue, then batters your face with her butt. You taste her well-fucked anus, and lap her to make her cum.
Shackled Slave Jeremy is in for a work-out when Mistress Brandi attacks his face with her pussy. "Give me that fuckin' tongue," she yells, "Make that fuckin' pussy cum, bitch!" She screams as he tongues her holes, then clamps her pussy lips down hard to SMOTHER him.
While Jeremy licks her asshole, Brandi plays with his dick. She can't resist SUCKING HIS COCK, but before he forgets his place, she SLAPS it harshly hard to remind him. She pinches his nipples and chokes him. Then she sucks him until he almost cums, but denies him release. Brandi SIDE-SADDLE FACESITS him until she CUMS. She unshackles Jeremy, then stands against the wall with her butt sticking out. She commands her slave to WORSHIP her ass and lick it until she cums again.
Keep2share – 7FCHV26_xmtx.rar – 543.5 MB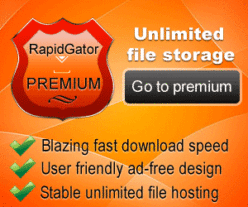 Random Movies